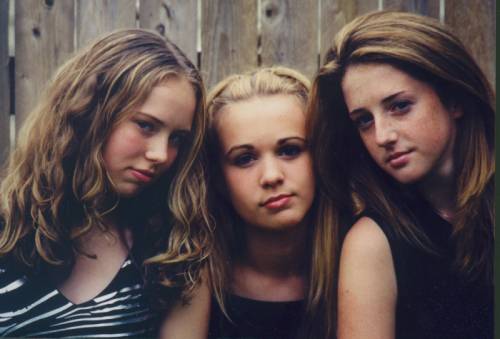 The all teen female vocal group, By Chanz, consists of veteran founding member Kelley Hagood, Sarah Luhrs, and Lauren Smallwood. Kelley sings in the mid- to lower-alto range. Sarah sings in the soprano range, and Lauren is the groups rap/hip- hop artist.
By Chanz sings pop music laced with a tinge of R&B. The members' vocal styles have been influenced by other singers like Mariah Carey and Whitney Houston as well as other pop vocalists like Britney Spears, Christina Aguilera, Jessica Simpson and Mandy Moore. By Chanz has also been influenced by R&B artists such as TLC, Toni Braxton, En Vogue, Destiny's Child, Brandy, Monica and Aliyah, perhaps to a greater degree than by the pop artists.
Their live performances have also been influenced by the boy bands-- the Backstreet Boys, 'N SYNC, and 98 Degrees since they have added hip-hop dance moves into their shows. By Chanz has also integrated rap/hip hop music into their live performances in a style they call "Pop Hop." They also plan to record a remix of several of their original songs for their fans who like rap/hip hop music.
By Chanz has recorded several original songs including Beat of Your Heart, and I Can't Breathe. The first, a catchy upbeat pop/R&B song, characterizes a young girl's ambivalence about a romantic relationship and her yearning for one that is more substantive. The second song, I Can't Breathe, is a ballad about the feelings of desperation a teen girl has when the relationship with her boyfriend is going through those inevitable ups and downs.
Todd Wright, the exceptionally talent pop singer-songwriter and a member of the Excentrics wrote a big ballad for the group entitled The Way I Feel Tonight. Kelley recently cut a demo of the song with Wright's help in his home recording studio. Wright said, "the song is about a relationship of the moment that a young teen girl wants to enjoy without thinking about making any long-term commitment." It has clever lyrics, a memorable melody, and will give By Chanz the opportunity to demonstrate their vocal talent.
To see lyrics for these and other original By Chanz songs click on the Music button.